Wat doe je als je een halve zak voorgesneden sla in je koelkast hebt liggen? Dan maak je een groentefrittata!
En niet alleen omdat het zero waste week was (vorige week). Thuis kook ik vaak met wat ik in mijn koelkast heb en er zijn altijd wel een paar zielige groenten die snel gebruikt moeten worden voordat het tijd is om ze in de vuilnisbak te gooien.
Ik had wat kant-en-klare salade met julienne gesneden wortelen, andijvie en kool, plus 3 eiwitten die over waren nadat ik de avond ervoor spaghetti alla carbonara had gemaakt (ik maak het gerecht met alleen dooiers). Heb ook twee eieren toegevoegd die een paar dagen over de houdbaarheidsdatum waren – wist je dat je eieren kunt eten die een maand over de houdbaarheidsdatum heen zijn?
Je kunt deze frittata maken met alle overgebleven gekookte of rauwe groenten die je in je koelkast hebt, bijvoorbeeld bloemkool, broccoli, courgette en paprika. De echt verlepte zijn perfect tenzij ze al beschimmeld zijn, natuurlijk. 😉
Maar ik slaag er vaak in om kleine stukjes die niet meer goed zijn te verwijderen en de rest te gebruiken. Zorg dat eventuele rauwkost fijngesneden is zodat die snel kan garen.
Ik heb ook wat verse munt toegevoegd, een lekkere Zuid-Italiaans smaakmaker, maar je kunt kruiden gebruiken naar eigen smaak.
Je hebt een pan met antiaanbaklaag nodig om de frittata goed te kunnen omdraaien, maar als je een frittata zonder enkel gedoe wilt maken kun je hem in de oven bakken met een vel bakpapier om te voorkomen dat de eieren aan de ovenschaal blijven plakken. Als je dit in de pan maakt, zorg er dan voor dat je veel olijfolie gebruikt.
(scroll voorbij de foto voor het recept)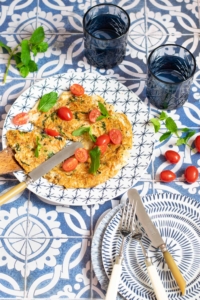 FRITTATA ANTISPRECO CON VERDURE
Voor 2 personen
200 gr. gemengde groenten, fijngesneden
e.v. olijfolie
een snufje kurkuma
een handjevol muntblaadjes
3 eiwitten en 2 hele eieren (of 4 hele eieren)
2 eetlepels geraspte pecorino of parmigiano
2 eetlepels koud water
zout en peper
kerstomaatjes en verse kruiden om te garneren
Bak de groenten in genoeg olijfolie zachtjes gaar.
Klop de eieren en eiwitten op met water, geraspte kaas, fijngehakte munt, kurkuma en zout en peper naar smaak.
Voeg het eimengsel toe aan de groenten in de pan en zorg ervoor dat alles goed verdeeld is.
Laat de frittata aan één kant zachtjes bakken tot de bovenkant is gestold, draai hem dan voorzichtig om, om ook de andere kant te bakken.
Laat ongeveer 4-5 minuten verder bakken – zonder deksel – en serveer, gegarneerd met kruiden en kerstomaatjes.
Als je het gerecht in de oven maakt hoef je het niet om te draaien en kun je minder olijfolie gebruiken.