What do you do when you have half a bag of pre-cut salad wilting away in your fridge? You make a veggie frittata!
And not only because it's been zero waste week (last week). At home I often cook with what I have in my fridge and there are always a few sad veggies that need to be used quickly before it's time to toss them in the bin.
I had some salad made with julienned carrots, endive and cabbage, plus 3 egg whites that were left after making spaghetti alla carbonara the evening before (I make it with just yolks) and I also added two eggs that were a couple of days past the expiration date – did you know you can eat eggs after a month past their best before date???
You can make it with any left-over cooked or raw veggies you have in your fridge like cauliflower, broccoli, courgette and bell peppers. The really wilted ones are perfect unless they're already mouldy, of course. 😉
But I often manage to remove little bits and pieces that are not good anymore and to use the rest. If you're using raw vegetables make sure they're finely chopped so that they cook pretty quickly.
I also added some fresh mint, a tasty southern Italian touch, but you can use any herbs you like.
You will need a non-stick pan to turn the frittata properly but if you want a completely no-fuss frittata you can bake it in the oven with a sheet of  baking parchment to prevent the eggs from sticking to the oven dish. If you make this in the pan make sure to add abundant olive oil.
(scroll past the photo for the recipe)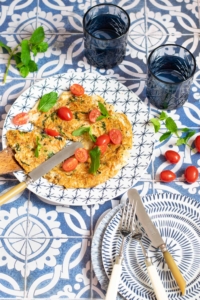 FRITTATA ANTISPRECO CON VERDURE
Serves 2
200 gr. veggies, finely chopped
e.v. olive oil
a pinch of turmeric
a few mint leaves
3 egg whites and 2 whole eggs (or 4 whole eggs)
2 spoons of grated pecorino or parmigiano
2 spoons of cold water
salt and pepper
cherry tomatoes and fresh herbs to garnish
Gently fry the veggies in abundant olive oil until tender.
Whisk the eggs and egg whites with water, grated cheese, finely chopped mint, turmeric and salt and pepper to taste.
Add the egg mixture to the veggies in the pan making sure everything is well distributed and cover with a lid.
Let the frittata gently cook on one side until the upper part has set, then carefully turn it to bake the other side too.
Leave to set further for about 4-5 minutes – no lid necessary – and serve, garnished with herbs and cherry tomatoes.
If you bake it in the oven you won't need to turn it and you can use less olive oil.