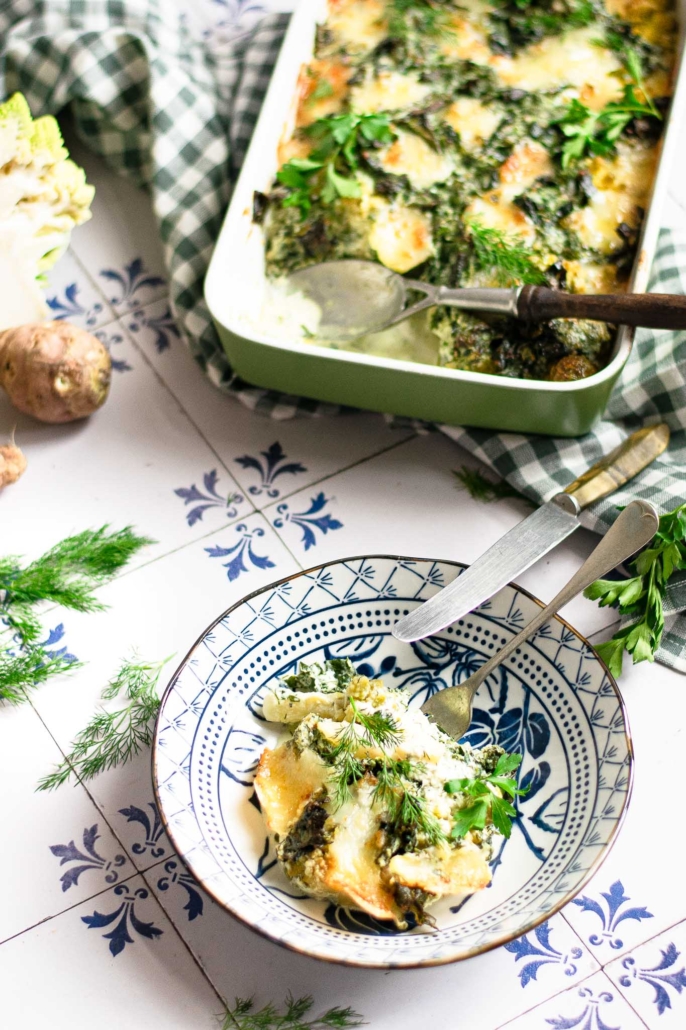 This recipe  is an ode to Brassica (or cruciferous vegetables), a family of plants I really love. It also contains a few of Jerusalem artichokes, those cute little tubers that taste so much like real artichokes. If you can't find them use a few boiled or steamed potatoes, always nice.
So if you like these winter vegetables like me, this dish is definitely for you. It's not exactly for someone who's on a diet, though, seen the quantities of cheese and cream it contains. 😀
You can considerably decrease the levels of fat by using yoghurt instead of cream, though the velvety richness of the dish will not be the same. I've also used Tuscan kale, Brussels sprouts and Romanesco broccoli (the most beautiful vegetable on Earth with all its little Fibonacci spirals…) plus a bunch of fresh dill and flat-leaf parsley for the extra freshness.
I added the Tuscan kale to the ricotta mixture still raw because of the crunchier note, but you can steam it with the rest of the greens for a less chewy texture.
For the finishing touch I've chosen Asiago, a delicate and slightly nutty cheese from the Veneto region. I also grated in the mixture some Fontina and a bit of Grana. So together with the ricotta this is practically a quattro formaggi dish!  
These quantities will easily feed 4 to 6 people as a side dish. (recipe after the photo)
Winter veggies oven dish with cream and cheese
1/2 head Romanesco broccoli (about 350 gr. when cleaned)
250-300 gr. Brussels sprouts
4 medium-sized Jerusalem artichokes
3-4 big leaves of Tuscan kale (around 80 gr. cleaned)
250 gr. ricotta
3 heaped tablespoons grated Grana or Parmigiano
50 gr. coarsely grated Fontina cheese
3,5 dl. cream (about 30-35% fat)
1 small bunch of dill
1 small bunch of flat-leaf parsley
160 gr. Asiago cheese, coarsley diced
sea salt an black pepper
Preheat the oven at 180°C.
Steam the Romanesco, the Brussels sprouts and the Jerusalem artichokes – whole and with their skin – until tender but still firm. You can put them all in the steaming basket at once.
Remove the hard ribs from the kale and chop them in coarse strips. You can steam them too.
Peel the Jerusalem artichokes and cut each of them in four or more parts.
Mix the ricotta with the grated Grana or Parmesan, the Fontina, the cream plus enough salt and pepper. 
Stir well, then add the finely chopped herbs (only their leaves) and the kale strips and mix further.  
Lay the vegetables on the bottom of an oven dish (20 by 30 cm.) and cover them with the cheese mixture. If the Brussels sprouts are really big you can cut them in half before doing that.
Add the diced Asiago on top of the vegetables and bake in the oven for about 20 minutes or until well cooked and golden.