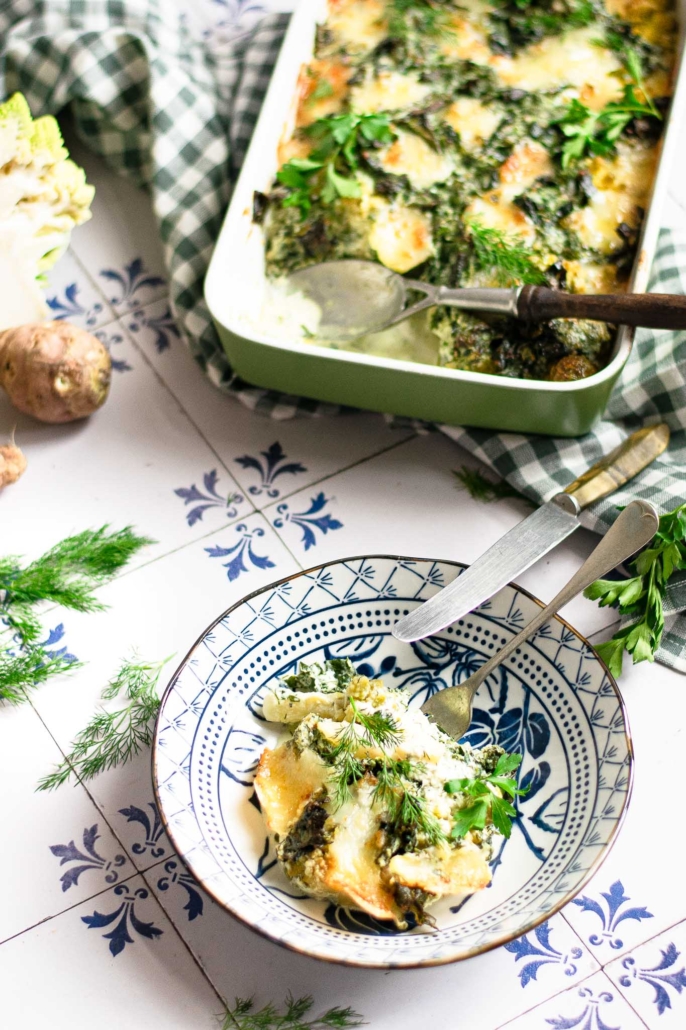 Dit recept is een ode aan Brassica of kruisbloemige groenten, een plantenfamilie waar ik dol op ben. Het bevat ook een paar aardperen, die schattige knolletjes die zo naar artisjok smaken. Als je ze niet kunt vinden gebruik dan een paar gekookte of gestoomde aardappels, altijd lekker.
Als je net als ik van deze wintergroenten houdt, is dit gerecht zeker iets voor jou. Het is echter niet voor iemand die op dieet is, gezien de hoeveelheden kaas en room die het bevat. 😀
Je kunt het vetgehalte aanzienlijk verlagen door yoghurt te gebruiken in plaats van room, hoewel de smeuïgheid van het gerecht niet dezelfde zal zijn. Ik heb ook Toscaanse palmkool, spruitjes en Romanesco-broccoli gebruikt (de mooiste groente op aarde met al zijn kleine Fibonacci-spiralen…) plus een bosje verse dille en platte peterselie voor een frisse en groene smaak.
De Toscaanse palmkool heb ik nog rauw aan het ricottamengsel toegevoegd vanwege de iets knapperige structuur, maar je kunt hem samen met de rest van de groenten stomen voor een minder "taaie" textuur.
Voor de afwerking heb ik gekozen voor Asiago, een delicate en licht nootachtige kaas uit de regio Veneto. Ik heb er ook wat Fontina en een beetje Grana door geraspt. Samen met de ricotta is dit dus een echte quattro formaggi gerecht!
Met deze hoeveelheden kun je makkelijk 4 tot 6 personen serveren (bijgerecht).
(recept na de foto)
Wintergroente uit de oven met kaas en room
1/2 Romanesco broccoli (ca. 350 gr. schoongemaakt)
250-300 gr. spruitjes
4 middelgrote aardperen
3-4 grote bladeren Toscaanse palmkool (ca. 80 gr. schoongemaakt)
250 gr. ricotta
3 volle eetlepels geraspte Grana of Parmigiano
50 gr. grof geraspte Fontina kaas
3,5 dl. room (ca. 30-35% vet)
1 klein bosje dille
1 klein bosje platte peterselie
160 gr. Asiago kaas, in grove blokjes gesneden
zeezout en zwarte peper
Verwarm de oven voor op 180°C.
Stoom de Romanesco, de spruitjes en de aardperen – heel en met schil – tot gaar maar nog stevig. Je kunt ze allemaal tegelijk in het stoommandje doen.
Verwijder de harde ribben van de boerenkool en hak het groene gedeelte in reepjes. Je kunt deze ook stomen.
Schil de aardperen en snijd ze elk in vier of meer partjes.
Meng de ricotta met de geraspte Grana of Parmezaan, de Fontina, de room plus voldoende zout en peper.
Roer goed, voeg dan de fijngehakte kruiden (alleen de blaadjes) en de palmkoolreepjes toe en meng verder.
Leg de groenten op de bodem van een ovenschaal (20 bij 30 cm.) en bedek ze met het kaasmengsel. Als de spruitjes echt groot zijn kun je ze eerst doormidden snijden.
Doe de blokjes Asiago bovenop de groenten en bak het gerecht in de oven voor ongeveer 20 minuten of tot goed gaar en goudkleurig.