Sciakisciuka, the Sicilian shakshuka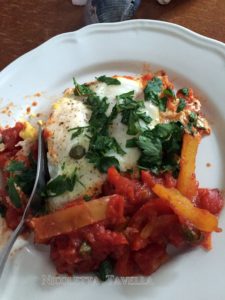 Recently shakshuka has become quite popular thanks to famous cooks and cookbok writers like Yotam Ottolenghi who prepare their versions of this wonderful Middle Eastern dish.
Maybe you didn't know but there's also a Sicilian shakshuka and this is due to the fact that the island has been ruled by the Arabs for a long time (i Saraceni, as they were called). It's not for noting that Sicily is the only Italian region where couscous (cùscusu as they call it there) is quite common, especially in the Trapani region where they even organize a yearly couscous festival (you can find some info here).
The first to fall after the attack of the Saraceni was the small island of Pantelleria and this dish comes straight from there. On Pantelleria numerous versions are made with different vegetables (zucchini and eggplant in the first place, because they are abundantly available in Sicily), and often, if not always, with the famous Sicilian capers.
I chose for a version with sweet bell peppers.
Sciakisciuka is perfect for breakfast, lunch and dinner. Moreover, it is very easy to make so what are you waiting for?
P.S. by using passata di pomodoro (sieved tomatoes) instead of peeled tomatoes you reduce the sauce's cooking time to 8-10 minutes.
Serves 2
1 small onion, chopped
1 clove garlic, minced
e.v. olive oil
1 can of peeled tomatoes with their juice
1 red pepper
1 yellow pepper
2 tablespoons of capers in salt or vinegar, well rinsed
1 or 2 eggs p.p.
salt and black pepper
1 handful chopped parsley
Fry the onion and garlic in a few tablespoons of olive oil until soft and translucent.
Add the sliced peppers and fry them on a high flame for a couple of minutes.
Add the peeled tomatoes and let everything simmer slowly for at least 15 minutes. If necessary, add an occasional splash of hot water if the sauce becomes too dry.
Add the eggs to the sauce. Their cooking time depends on how firm you want the yolks to be.
Season with salt and pepper.
Sprinkle with the capers and the chopped parsley and serve with good bread.
https://www.cucinadelsole.nl/wp-content/uploads/2016/08/sciakisciuka-1-media.jpg
3060
2448
Nicoletta Tavella
https://www.cucinadelsole.nl/wp-content/uploads/2016/05/LOGO-simple-GRANDE-FORMATO-JPG-217x300.png
Nicoletta Tavella
2016-08-07 11:29:50
2023-05-05 23:32:16
Sciakisciuka, the Sicilian shakshuka