Gattò di patate, Neapolitan potato pie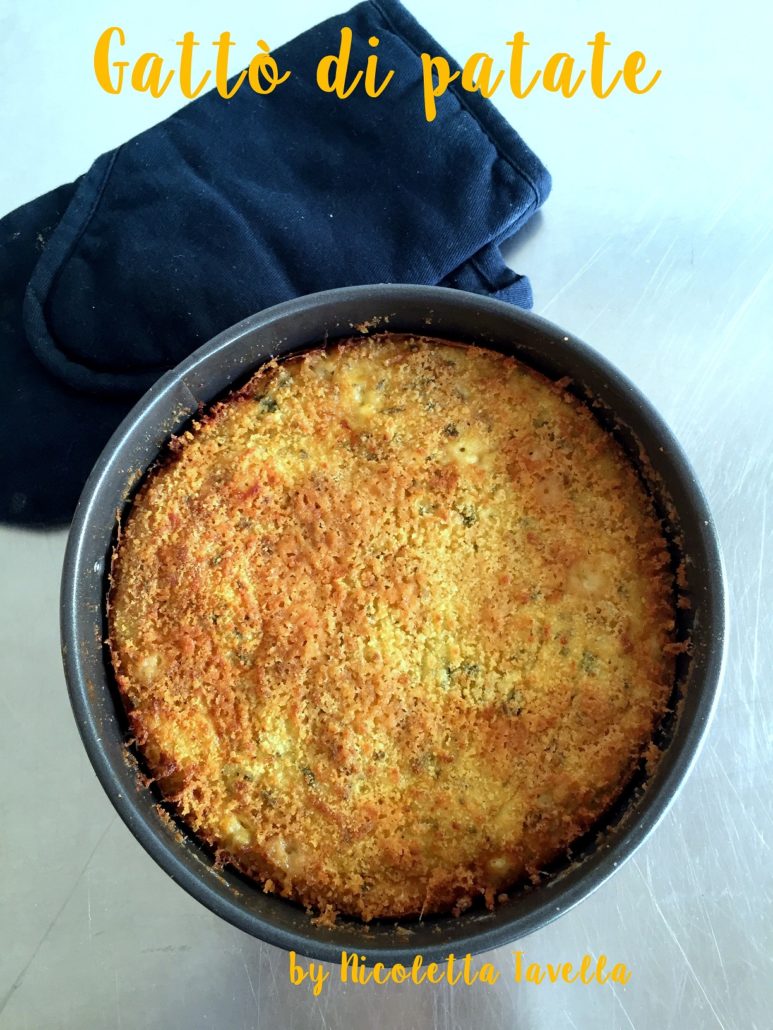 The gattò di patate (from the French gâteau) is a classic dish from Naples and surroundings. In the 18th century the Austrian Maria Carolina of Habsburg-Lorraine married King Ferdinand I of Naples and brought her French chefs to the Neapolitan court.
The influence of French cuisine is clearly noticeable in several dishes from the region, including this delicious potato pie.
My mom makes this dish quite often and I have learned to make it from her. I use smoked scamorza (an Italian cheese that is a kind of aged and smoked mozzarella, also called provola affumicata). You can also use regular mozzarella if you do not like the smokey taste or want a more delicate flavour. And for a vegetarian version, add some extra Parmesan or mozzarella pieces instead of ham. If you don't eat pork you can also use chicken or turkey "ham", also very nice (I actually used turkey for the gattò you see here).
The gattò can be served as an antipasto (starter) or side dish – in these cases case I prepare it in small, single-serving oven dishes – or, in bigger portions, as a main dish.
Gattò di patate

Serves 8-10
Ingredients:
1,4 kg. starchy potatoes
100 gr. butter
80 gr. grated Parmesan cheese
50 gr. grated pecorino
3 eggs
1 pinch of grated nutmeg
100 gr. cooked ham
150 gr. smoked scamoza affumicata (grated or sliced)
1 bunch of parsley
bread-crumbs
extra butter for greasing
salt and black pepper
Preheat the oven to 200 ° C.
Boil the potatoes (with their skin and still whole so they absorb less water and remain firm) in salted water until tender.
Mash them with a potato ricer so that the skins remain in the device. This helps to save work and time since you obtain a nice, fluffy purée and the skins can easily be removed from the ricer without having to peel the potatoes first.
Cut the ham into small pieces.
Add 80 gr. butter, Parmesan and pecorino, grated nutmeg, eggs, chopped parsley, salt and pepper to the mashed potatoes to. Stir until smooth and evenly mixed.
Grease a cake tin with butter and sprinkle with breadcrumbs. Place half of the mixture into the tin and spread the scamorza and the ham on it.
Cover with the rest of the mixture, smooth the mashed potatoes flattening the mixture with a spoon and sprinkle with breadcrumbs. Divide the rest of the butter in pieces over the surface of the pie.
Bake for ± 30 minutes until the pie is nice and golden brown and serve lukewarm.

https://www.cucinadelsole.nl/wp-content/uploads/2016/10/gattò-1.jpg
1632
1224
Nicoletta Tavella
https://www.cucinadelsole.nl/wp-content/uploads/2016/05/LOGO-simple-GRANDE-FORMATO-JPG-217x300.png
Nicoletta Tavella
2016-10-22 21:11:03
2016-10-23 08:36:37
Gattò di patate, Neapolitan potato pie