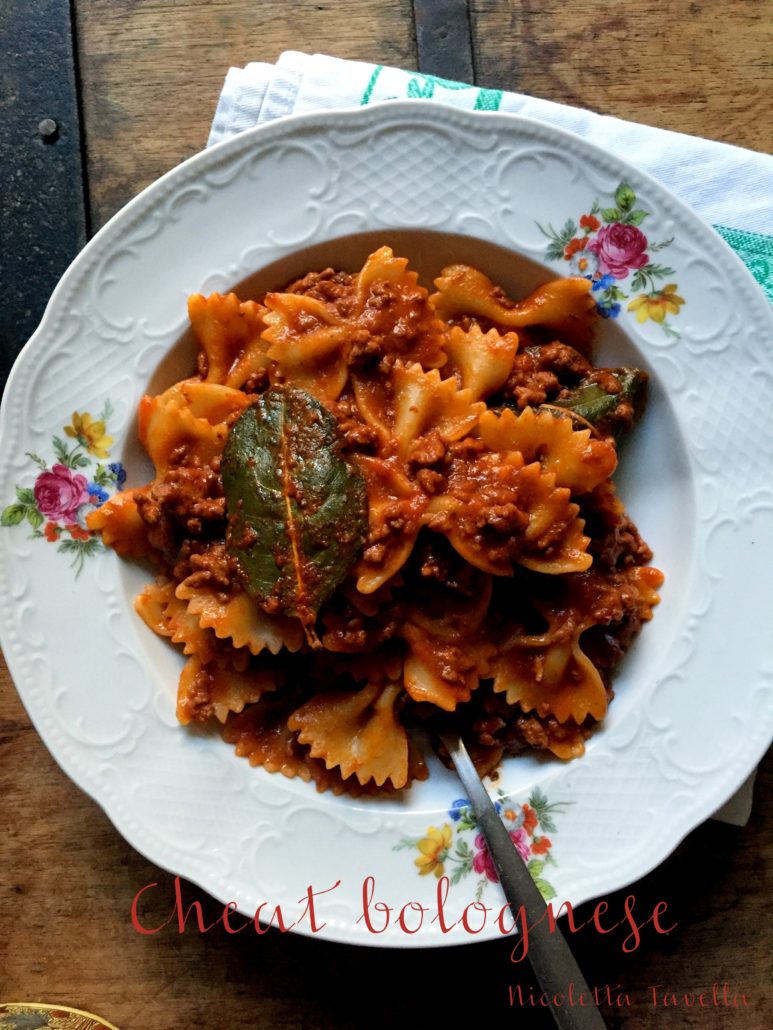 The real ragù alla bolognese takes time. A lot of time. Preferably between 3 and 6 hours of gentle simmering. This is because if you cook this dish really slowly and extensively all the ingredients almost "melt" into each other producing a beautiful sauce with perfectly combined tastes and textures. Exactly like a bolognese is supposed to be, and that's why it is usually a "weekend sauce".
On weekdays I often don't have that much time at my disposal but I regularly crave a delicious bolognese. That's when I make this cheat version, without the classic soffritto (a mixture of chopped carrot, celery and onion that takes long to soften and cook) and using passata di pomodoro (crushed sieved tomatoes) instead of peeled tomatoes, which are a lot slower to get cooked through and through.
In Bologna every family has a bolognese recipe and they all claim that THEIR version represents THE recipe. With only pork or half pork and half beef, with or without pancetta, with or without milk or cream, with white or red wine, you name it: everyone is strongly opinionated about the real bolognese. This version is based on my Mom's recipe, who learned how to make the dish when we were living in Bologna. I varied it for a quicker and yet very satisfying dish.
Try it. If you like bolognese as much as I do it'll make you happy!
Ingredients
Serves 4
2 shallots, finely chopped
2 cloves of garlic, minced
a few tablespoons of e.v. olive oil
300 gr. organic minced beef (also half pork and half beef is fine)
1 glass of red wine
1/2 litre passata (sieved tomatoes)
4 bay leaves
1 sprig fresh rosemary, only the finely chopped leaves (dried rosemary is also a possibility)
1 clove
sea salt and black pepper
Fry the finely chopped shallots and garlic in a few tablespoons of olive oil until soft and translucent. Add the herbs and cook for another minute.
Add the minced meat and the clove and fry gently for 10 minutes until the meat turns brown.
Add the wine, let the alcohol evaporate completely while gently stirring and then add the passata.
Bring to a gentle boil and allow approximately 1/2 hour to simmer and thicken. Stir occasionally and add a little hot water if the sauce becomes too dry.
Season with salt and pepper.
Remove the clove and the bay leaves and serve over your favourite pasta.
https://www.cucinadelsole.nl/wp-content/uploads/2016/10/cheat-bolognese-finale.jpg
3264
2448
Nicoletta Tavella
https://www.cucinadelsole.nl/wp-content/uploads/2016/05/LOGO-simple-GRANDE-FORMATO-JPG-217x300.png
Nicoletta Tavella
2016-10-06 11:31:43
2016-10-06 14:35:55
Cheat bolognese sauce