Testimonials workshops and culinary holidays in Italy
Beste Nicoletta,
Hartelijk dank voor de toezending van de recepten! En vooral ook dank voor de interessante invulling van ons kleine weekje Sicilië! Ik vond de eerste kennismaking met Sicilië zeer de moeite waard en dan natuurlijk de kennismaking met de keuken. Je had het perfect voorbereid. Dat moet geen eenvoudige klus geweest zijn: regeren is vooruit zien en dat had je duidelijk gedaan.
"Thank you for Friday evening we had really an amazing time! We had so much fun and we loved the food you let us prepare!
Please KEEP UP great work! You are a fantastic person with an amazing personality and talent!"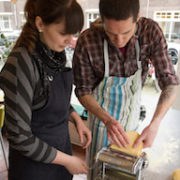 "Thanks so much from all of us for a fantastic day, everyone had a great time and the food was delicious!You are great at what you do!!!"
"Net terug van een topavond. Heerlijk eten. Het was perfect georganiseerd en er waren gezellige gasten. Ik heb vaker kookworkshops gevolgd, deze steekt er echt boven uit. Ik kom zeker weten nog terug."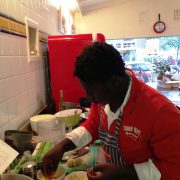 "Ik wil ik je bedanken voor de geweldig leuke en goed verzorgde workshop over het maken van verse pasta. De workshop vond ik enorm inspirerend en ik had meteen zin om thuis alles in praktijk te brengen."
"We hebben een super leuke avond gehad gister!! Erg leuk om alles zelf te maken met al die heerlijke verse ingrediënten, verrukkelijk!! Een avond waar we met veel plezier aan terug zullen denken. De kookstudio ziet er fleurig en leuk uit met genoeg ruimte voor een ieder. Helemaal top dus!"
"Ik ben nu een week terug van vakantie in Italië en ik heb daar nog geen pizza of risotto gegeten, die de jouwe uit de workshops overtroffen."