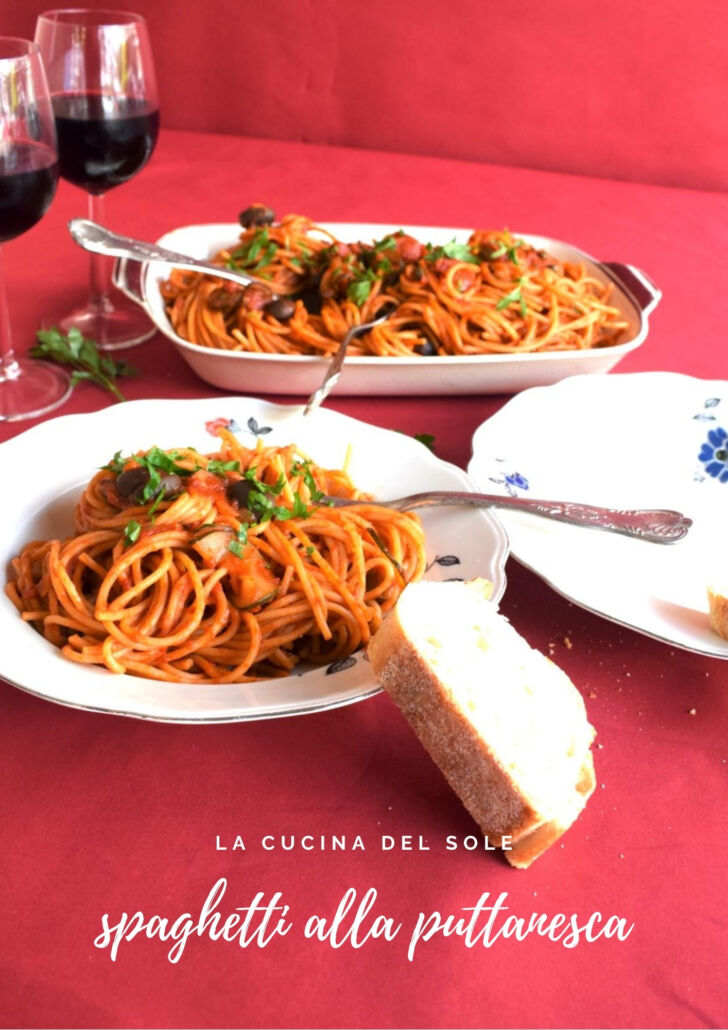 I'm a huge pasta lover, that should be clear by now (if you don't believe me check my Instagram account) and this is one of my favourite pasta dishes EVER, so double the love.
Easy to make, super tasty and prepared with ingredients that are in every Italian kitchen – I hope in yours too – a simple puttanesca from the Campania region can solve dinner in about half an hour and put a big smile on everybody's face.
So make it often and serve it with a good glass of robust red, preferably form Southern Italy, and chilled during Summer. Yes, some Italian reds are traditionally served chilled when it's hot outside and they still taste great, for example the Nero d'Avola from Sicily and the Primitivo from Puglia.
I use the same wine I'm drinking for the sauce but you can of course use white wine instead.
I tend to prefer thick spaghetti for this recipe. Here I've used whole-wheat pasta but plain one is perfect too.
Spaghetti alla puttanesca
Serves 3-4
Ingredients:
300 gr. spaghetti
50 gr. pitted black olives
4 anchovy fillets, salted or preserved in oil
1 clove of garlic, peeled
2 tablespoons of capers, rinsed and drained
800 gr. peeled tomatoes (2 cans)
1-2 dried red chillies
1 small bunch of flat-leaf parsley
extra virgin olive oil
pepper and salt
¼ glass of red wine
Chop the anchovies and let them gently dissolve in some olive oil over low heat together with the finely chopped garlic and the crushed chillies. Make sure the garlic does not burn or it'll turn bitter.
Dice or shred the peeled tomatoes and slice the olives.
Add tomatoes, sliced olives and capers to the garlic with anchovies.
Chop the parsley and keep aside.
Add the wine and let the sauce simmer for about 25 minutes over low heat until nicely thickened. Season further with salt and pepper to taste.
In the meantime, cook the spaghetti "al dente" in plenty of salted boiling water, drain and transfer into a large bowl.
Pour the warm sauce over the spaghetti, stir well and serve immediately, garnished with the chopped parsley.