This is the perfect soup for cold Winter days. It originates from Liguria, Italy, and it's quite easy to make. It's one of my family recipes and I love to prepare it with rainbow chard. Plain chard and wild spinach are great too!
It is enriched with a handful of porcini mushrooms which you can buy in dried form, soaking them in hot water for 10 minutes before adding. They will enhance the flavour of the soup and give it extra healing properties thanks to their high beta glucans content, which helps fight inflammation, strengthens the immune system and boosts heart health.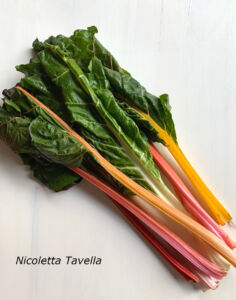 Chard contains plenty of minerals (calcium, iron and magnesium) and helps us keep strong, healthy bones.
TIPS:
Use the soaking water of the porcini for extra taste but avoid pouring it all in the soup till the last drop since it might contain some dirt and sand deposits.
The soup can be made completely vegan (and lighter, if you're detoxing) by frying the croutons in extra virgin olive oil instead of butter. You can, of course, skip the croutons completely and add some cooked rice, quinoa or millet instead to make it also gluten-free.
Go heavy on the parsley: it's great for detoxing the liver and contains plenty of iron and vitamin C!
This is another recipe I developed for my health-conscious Friends at Empowered Embodiement. Check out their blog! 🙂
……………………………………………………………………………………………………………………………………………….
ZIMIN
Serves 4
SOUP:
1 big onion
3-4 cloves of garlic
6 tablespoons of extra virgin olive oil
4 bay leaves
2 sprigs of rosemary
500 gr. rainbow or plain chard (or wild spinach)
400 gr. cooked chickpeas
10 gr. of dried porcini mushrooms
3 l. of vegetable stock
black pepper
FOR GARNISHING:
4 slices of bread
2 tablespoons of butter or 2-3 tablespoons of e.v. olive oil
a bunch of flat-leaf parsley
MAKING THE CROUTONS:
Cut the bread in square or rectangular chunks and fry them in the melted butter or in olive oil until golden and crunchy. Set aside for later.
MAKING THE SOUP:
Soak the dried porcini mushrooms in warm water for about 10 minutes and then cut them in medium-sized pieces.
Peel the onion and the garlic cloves and chop them quite coarsely.
Finely chop the rosemary leaves and gently fry them in 6 tablespoons of olive oil together with the onion and the garlic.
Once the onion has turned glazy, add the coarsely chopped chard stems (the leaves will be added later) and let them soften up a bit.
Add the chopped chard leaves and the mushrooms and leave to cook for a few minutes.
Add the drained chickpeas, the bay leaves, the porcini soaking water and the stock.
Cook the soup for about 30 minutes and serve garnished with the croutons, some ground black pepper and abundant finely chopped parsley.