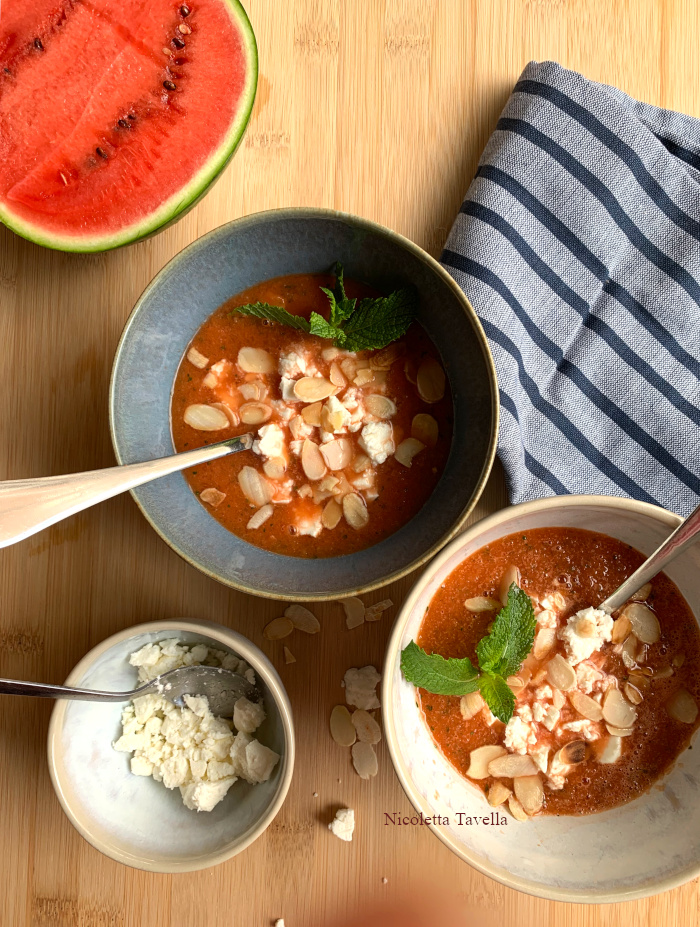 Who's ever bought a a watermelon that wasn't sweet?
Everybody, I guess. 😀
Watermelon is a wonderful fruit and can be beautifully sweet, but if you get yourself a bland one, then there's no fun in eating it just like that.
Tossing it is not an option, in my home, so I usually juice it and mix it with other, sweeter fruit. But since I had to create the monthly soup for my friends at Embodied Empowerment I thought I could concoct yet another cold soup for the "hot" Dutch Summer. 😉
Watermelon hydrates and detoxes, plus is full of antioxidants and it helps to improve the eyesight. If you use an organic watermelon, try pickling its rind instead of throwing it away: it's very tasty and has a lovely crunch!
Mint and lime make this cold soup even more refreshing.
The saltiness of the feta cheese and the crunchy roasted almonds make this dish a perfect little starter on a warm Summer day.
The cucumber peels end up in my salad.
It's super easy and quick to make (about 15 minutes!) and also very tasty and refreshing.
Try it and let me know if you liked it.
Zuppa fredda con anguria, cetriolo e feta
Serves 3-4
600 gr. watermelon (rind included)
350 gr. cucumber
10 mint leaves plus a few extra ones
juice of 1 lime
180 gr. feta cheese
2 tablespoons of extra virgin olive oil
20 gr. slivered almonds
salt
black pepper
Peel the watermelon, slice it and remove its seeds.
Cut it in chunks.
Do the same with the cucumber. You can cut it in half – in the length – and remove all the seeds with a spoon.
Put watermelon, cucumber, lime juice, mint leaves, 2 tablespoons of olive oil and salt and pepper to taste in a mixer.
Blend to liquify. Make it as coarse or as smooth as you prefer.
If necessary, add more salt and pepper.
Roast the almonds until golden brown. You can do that in a frying pan without any oil (almonds already contain their natural oil).
Crumble the feta cheese.
Serve the soup with plenty of feta, the roasted almonds, freshly ground pepper and a few mint leaves.
Enjoy!