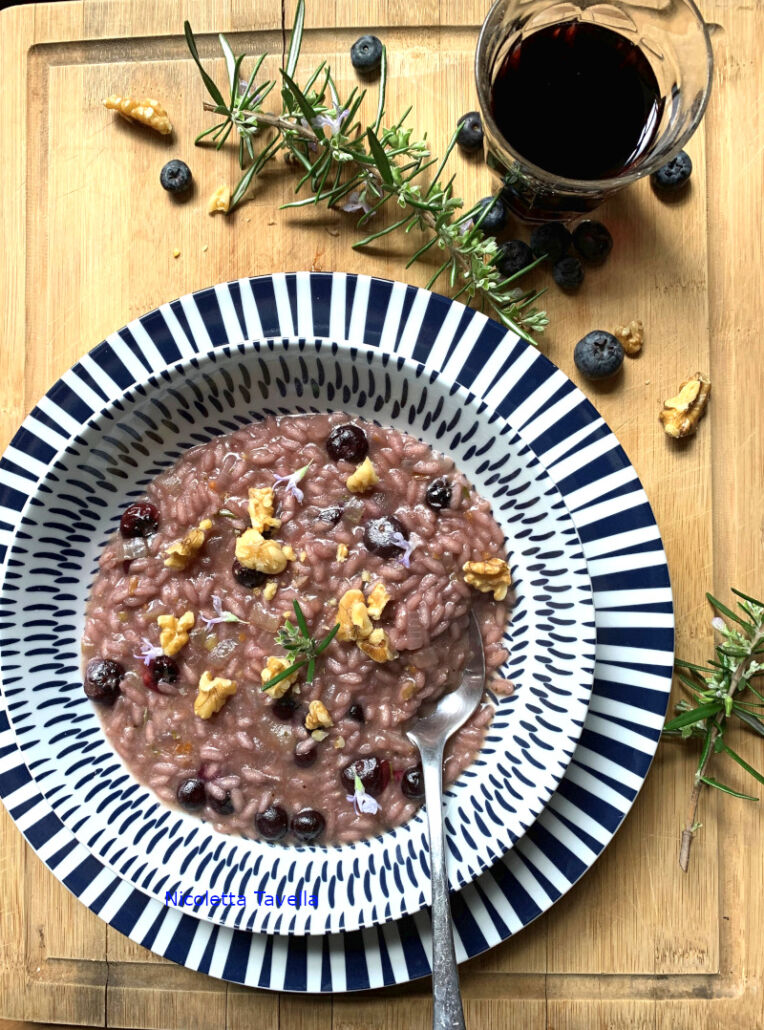 This risotto is a wonderful Winter dish that can be made when rosemary plants are flowering (they tend to do it also in Winter and that's such a joy!).
I love those little delicate lavender-coloured flowers so much because they're an anticipation of what's coming and they look so gorgeous on the dark green of the rosemary leaves. They are, of course, edible, so you can use them to garnish each dish.
The combination of flavours and colours in this risotto is really nice: rich and intense walnuts, slightly tart blueberries and full-bodied red wine make this a perfect comfort dish with a touch of originality.
Buon appetito!
………………………………………………………………………………………..
Risotto con rosmarino, vino rosso e mirtilli
Serves 2-3
Ingredients:
3 tablespoons of extra virgin olive oil
1 + 1 tablespoon of butter
1 medium-sized onion
a couple of sprigs of fresh rosemary, possibly with flowers
200 gr. good quality risotto rice (Carnaroli, Vialone, Baldo…)
½ glass of good, full-bodied red wine
2-2,5 l. of stock (I used a vegetable one)
100 gr. of fresh blueberries
sea salt and black pepper
1-2 handfuls of walnuts, coarsely chopped
freshly grated Parmigiano or Grana cheese (optional)
Remove a small handful of rosemary leaves from the sprigs and chop them finely. Keep the rest (and the flowers, if any) for garnishing.
Finely chop the onion and gently fry it together with the chopped rosemary in 3 tablespoons of olive oil and 1 tablespoon of butter until it becomes soft and glazy.
Add the rice to the onion and let it become glazy (the tips of the grains will become slightly translucent) while stirring it. This will take about 1 minute.
Add the red wine and let it evaporate well. That means: until you don't smell any alcohol anymore.
Start adding the stock – several big ladles at a time – making sure the rice is covered with it. Keep on stirring regularly and on adding stock as soon as it gets partially absorbed by the rice.
The most important thing to do while preparing risotto is to add stock constantly. As soon as the rice gets a bit drier you have to add some. Around the end of the cooking process you can add less and less, but in the beginning the rice needs to be covered with it.
When the risotto is almost cooked, add the blueberries and keep on stirring until the rice is nice and al dente.
Remove the pan from the flame and add 1 tablespoon of butter and some grated cheese (optional). Stir well and, if you like, season further with salt and pepper.
Leave the risotto to rest for 2-3 minutes with the lid on the pan. Keep it quite moist because it will keep on absorbing stock also after serving it. If you notice it's too compact, add a little stock and stir.
Serve immediately garnished with the chopped walnuts plus the fresh rosemary leaves and flowers. Some extra grated cheese is always a good idea.