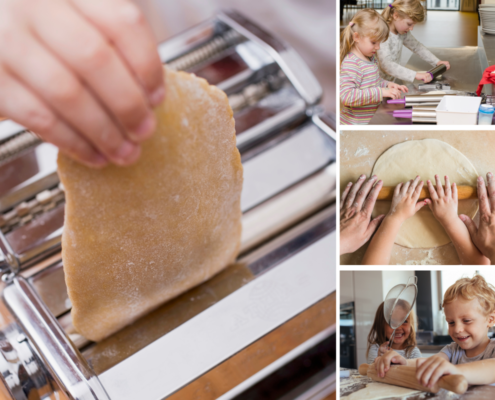 The perfect way to have your child celebrate with their friends: cooking Italian together and then eating all the wonderful dishes they prepared!
We offer the following themes:
Cookies and cupcakes: we make Ligurian flower-shaped canestrelli with a lovely dusting of powdered sugar, baci di dama (lady's kisses with chocolate and hazelnut, famous cookies from Piemonte) and cupcakes with a sweet cream cheese frosting and colourful sprinkles.
Pasta Making: we prepare tagliatelle with butter, sage and Parmesan, farfalle with home-made pesto and maltagliati with a tasty tomato-basil sauce.
High tea: we make little pizzas with mozzarella and tomato, coccinelle (ladybirds with cherry tomato, cream cheese and olives), mini quiches with egg, peas and carrots plus cupcakes with a sweet cream cheese frosting.
Please make sure they bring their own Tupperware boxes/plastic bags to take the left-overs home with them.
During these children's cooking classes we serve apple juice, mango juice, water/mineral water, (herbal) tea and fruit (fresh and dried, as a little healthy snack). No soft drinks, sorry! ?
What You Can Expect: The kids will be cooking and eating all the dishes they prepared.
The children work in a relaxed, hands-on environment under the guidance of our professional cooking instructors.
This class lasts 2 to 2,5 hours max.
The children work in small teams.
This workshop is limited to 16 children max.
The minimum number of children is 10.
Should any child have any allergies/intolerances/special dietary requirements, please state them when booking this workshop. Adjustments to recipes during the workshop are quite difficult and sometimes impossible. Thank you for your collaboration.
Should you want to take your own aprons, please feel free to do so. Otherwise the children can use ours. ?
Price: € 160,00 plus € 16,50 per child.
Special requirements: what else can we do for you?
Do you have any special requirements? Would you like to cook an all vegetarian menu? Or is there somebody allergic to specific ingredients? Would you prefer the spoken language and that of the working recipes to be Dutch or English?
We would be happy to hear that from you so that we can organize the perfect cooking workshop for your child!